Ubiquiti airFiber 5XHD

5 GHz Full Duplex Point-to-Point Gigabit Radio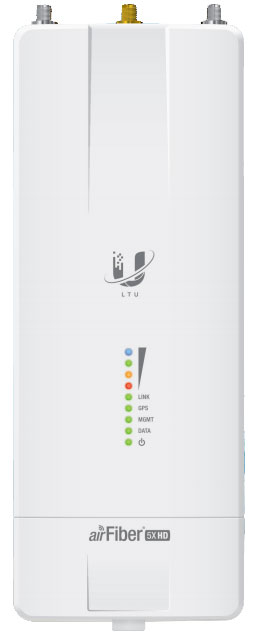 Ubiquiti Products
airFiber Series
AIRFIBER 500+ MBPS BACKHAUL
#AF-5XHD-US
Our Price: $429.00
Click here to jump to more pricing!
Overview:
Ten years ago, Ubiquiti® sparked a global Wireless ISP revolution with the introduction of NanoStation® — a cost-disruptive 802.11 Wi‑Fi long range outdoor plug and play radio. The NanoStation broke down technical and financial barriers for WISP's around the world, enabling nearly any operator to deploy scalable networks and grow profitable business models.
As bandwidth demands and scalability challenges increased through the years, Ubiquiti responded with performance-enhancing innovations such as the airMAX® TDMA protocol, PRISM® active RF filtering, and GPS synchronization — all working to extract every ounce of potential from consumer 802.11 Wi‑Fi chipsets. However, we always knew that one day growing subscriber bandwidth demands combined with an increasingly crowded unlicensed RF spectrum would expose the fundamental limitations of 802.11 Wi‑Fi silicon and ultimately threaten the survival of our industry.
Years ago, a core group of engineers at Ubiquiti set out to make sure this day would never come. We began an ambitious plan that would span millions of man hours of development and tens of millions of dollars of investment. The result was a new technology and ASIC chipset created from the ground floor up specifically for the Wireless ISP industry — a technology we believe positions our Industry to succeed in the new challenging landscape of the future. Welcome to what we call the Long Term Ubiquiti vision, or simply LTU™
Ubiquiti Networks continues to disrupt the wireless broadband market with revolutionary LTU technology that breaks through the limitations of 802.11 Wi-Fi technology. Designed for use in the 5 GHz frequency band, the new airFiber AF-5XHD is Ubiquiti's first LTU radio, offering greater channel bandwidths of up to 100 MHz, and more advanced RF components.
Pair the AF-5XHD with a compatible Ubiquiti® airFiber X antenna or RocketDish™ antenna for a complete 5 GHz Point-to-Point (PtP) solution.
An IP67 upgrade kit is included to provide enhanced protection from dust and water.
Engineered for Performance
Designed specifically for the Wireless ISP industry from the ground floor up, the AF‑5XHD's custom LTU silicon and radio architecture provide breakthrough performance. Its core communications processing engine surpasses the limitations inherent to generic Wi -Fi chips to provide low latency, long ‑range capability, DFS flexibility, higher constellations, and better power output, along with improved receive sensitivity.
The AF ‑5XHD features industryleading 21.2 bps/Hz spectral efficiency, line ‑rate data packet processing for up to 1.34 Gbps of real data throughput, and innovative xtreme Range Technology (xRT™).
Features:
The AF-5XHD offers the following advanced features:
Programmable Transmit Power The radio's transmit power level can be programmed up to +29 dBm.
Programmable Duty Cycle (GPS synchronized frames) The AF-5XHD allows configuration of asymmetric TX and RX duty cycles. TX ratios include 25%, 33%, 50%, 66.7%, and 75%.
Configurable GPS Synchronization The AF-5XHD offers configurable support for 2, 2.5, 4, and 5 ms frames. Timing is compatible with all other synchronous systems.
Split TX and RX Frequency1 The radio can operate on different frequencies for TX and RX, allowing great flexibility for interference avoidance.
Split TX and RX Channel Bandwidth1 Support for different channel bandwidths for TX and RX allows users to scale required data capacity more efficiently.
Adaptive Modulation up to 1024QAM Adaptive modulation rates of up to 1024QAM (4096QAM with targeted upgrade) are supported.
Dual Redundant Gigabit Ethernet Ports with PoE The AF-5XHD has two Gigabit Ethernet ports that can be used to provide redundant PoE power.
OFDM and OFDMA Support The radio offers flexible scheduling for 2, 4, or 8 subchannels.
Bluetooth Wireless Configuration Use the built-in Bluetooth interface for wireless configuration.
AlignLock™ Antenna Aiming Guard This alerts the user when the radio or antenna aiming is changed due to tampering, impact, or storm damage.
User-Configurable Interference Mitigation Three user-selectable profiles support both high‑interference and greenfield deployments for robust, optimal performance.
Redundant Images for Fail-Safe Configuration Creation of backup firmware images ensures fail-safe configuration and enhances reliability.
Persistent Spectrum Analysis with Dedicated RX Perform real-time spectral analysis for the full band on live links without interrupting the link operation.
Wide Voltage Range, Enhanced Surge Protection The AF-5XHD has an operating voltage range of 19‑50VDC and provides enhanced surge protection.
Specifications:
airFiber AF‑5XHD
Dimensions
224 x 82 x 48 mm (8.82 x 3.23 x 1.89")
Weight
0.35 kg (12.3 oz)
RF Connectors
(2) RP-SMA Weatherproof (CH0, CH1)
(1) SMA Weatherproof (GPS)
GPS Antenna
External, Magnetic Base
Power Supply
24V, 1A Gigabit PoE Adapter (Included)
Power Method
Passive Power over Ethernet Pins 1, 2, 4, 5 (+) and Pins 7, 8, 3, 6 (-)
Max. Power Consumption
6-12W
Supported Voltage Range
+18 to +54VDC
Mounting
airFiber X Mount (Rocket Mount Compatible
GPS Pole Mount (Included)
Operating Temperature
-40 to 55° C (-40 to 131° F)
Weatherproofing
IP67
Certifications
CE, FCC, IC
Networking Interface
Data Port
(1) 10/100/1000 Ethernet Port
Management Port
(1) 10/100/1000 Ethernet Port
Bluetooth v4.0
System
Processor
airFiber LTU IC
Maximum Throughput
1.34 Gbps
Maximum Range
100 km
Packets per Second
2+ Million
Latency
1.5 ms - 3.5 ms
Encryption
AES-256
OS
airOS LTU
Wireless Modes
Master/Slave
Radio
Frequency Range
4.8 GHz - 6.2 GHz
(Dependent on Regulatory Region)
Max. Conducted TX Power
29 dBm
(Dependent on Regulatory Region)
Frequency Accuracy
< 2 ppm
Channel Bandwidth
10/20/30/40/50/60/80/100 MHz Selectable
Programmable Uplink and Downlink Duty Cycles
Suggested Max. TX Power
10x
19 - 20 dBm
8x
21 - 22 dBm
6x
23 - 24 dBm
4x
29 dBm
2x
29 dBm
1x
29 dBm
Receive Sensitivity
Modulation Rate
Modulation

Sensitivity

10 MHz
20 MHz
30 MHz
40 MHz
50 MHz
60 MHz
80 MHz
100 MHz
10x
1024QAM
-66 dBm
-63 dBm
-61 dBm
-59 dBm
-57 dBm
-55 dBm
-53 dBm
-51 dBm
8x
256QAM
-72 dBm
-69 dBm
-67 dBm
-65 dBm
-63 dBm
-61 dBm
-59 dBm
-57 dBm
6x
64QAM
-78 dBm
-75 dBm
-73 dBm
-71 dBm
-69 dBm
-67 dBm
-65 dBm
-63 dBm
4x
16QAM MIMO
-84 dBm
-81 dBm
-79 dBm
-77 dBm
-75 dBm
-73 dBm
-71 dBm
-69 dBm
2x
QPSK MIMO
-88 dBm
-85 dBm
-83 dBm
-82 dBm
-81 dBm
-80 dBm
-79 dBm
-78 dBm
1x
½ Rate QPSK xRT
-90 dBm
-87 dBm
-85 dBm
-84 dBm
-83 dBm
-82 dBm
-81 dBm
-80 dBm
Pricing Notes:
Pricing and product availability subject to change without notice.
Ubiquiti Products
airFiber Series
AIRFIBER 500+ MBPS BACKHAUL
#AF-5XHD-US
Our Price: $429.00