Ubiquiti EdgePoint R6

Intelligent WISP Control Point with FiberProtect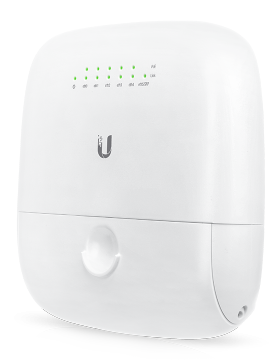 Ubiquiti Products
EdgeMAX EdgePoint Series
EdgePoint Router, 6 port
#EP-R6
Our Price: $140.00
Click here to jump to more pricing!
Overview:
Advanced Routing Technology for the Masses
Ubiquiti Networks introduces the EdgePoint, part of the EdgeMAX platform. The first application-specific designed WISP control point, the EdgePoint combines EdgeMAX routing features with fiber backhaul and versatile powering capabilities. The EdgePoint offers an innovative combination of robust routing performance, fiber backhaul capability, and the convenience of passive PoE support.

EdgePoint R6
Model: EP-R6
The EP-R6 features five RJ45 Ethernet ports and one SFP Ethernet port.
Power Options

24VDC, 3A Terminal Block
PoE Input

(5) 24V, 0.7A Passive PoE Output Ports*
(1) SFP Port
Robust Construction
The ruggedized case withstands outdoor conditions, including wind, rain, and snow. The included cable sleeve protects the cables and cable opening. If you prefer, you can swap it out for your own conduit.
Advanced Applications
For the EP-R6 and EP-R8, powerful routing features – such as load balancing and failover– provide redundancy and increased performance for outdoor wireless links.
Versatile Power Options
Powered by 24VDC or by PoE, the EP-R6 can support 24V passive PoE to power most Ubiquiti products.
Features:
Breakthrough in Tower Deployment
The EdgePoint features FiberProtect to significantly reduce electrostatic discharge (ESD) failures and electromagnetic interference (EMI), greatly improve data signal integrity, and consolidate the wired data backhaul to a single fiber cable run for long-distance connectivity.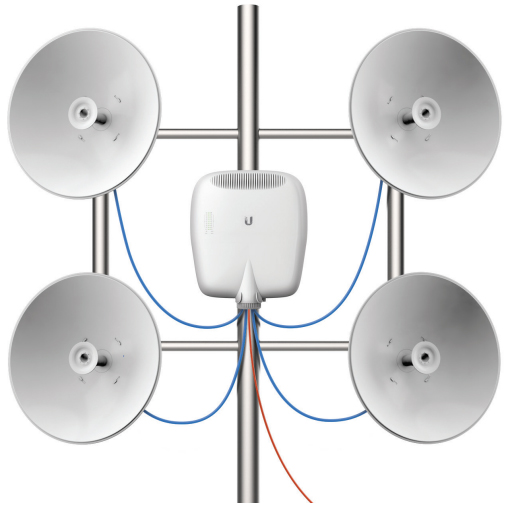 Example of a Backhaul Deployment for the EdgePoint
The EdgePoint runs fiber to the top of the tower so no cabinet is needed and there are no long Ethernet cable runs.
All-in-One Design
A single, compact controller eliminates clutter, expensive cabinets, extraneous installations, and excessive maintenance.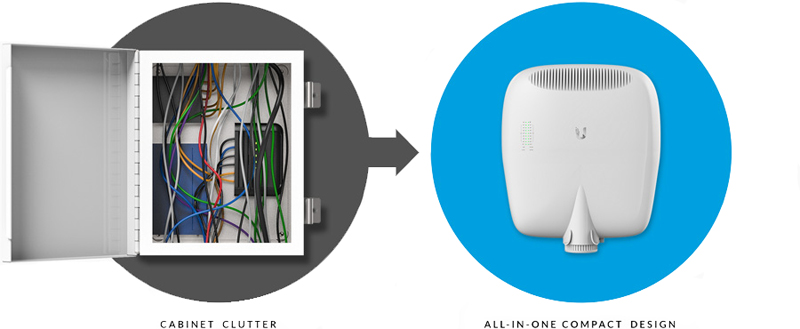 Example of EdgePoint as WISP Control Point
The EdgePoint replaces a cabinet containing a patch panel, power rack, multiple PoE adapters, syslog server, AP (for EdgePoint management), switch, router, and modem.
Advanced Routing Applications
Powerful routing features – such as link balancing – provide redundancy and increased performance for outdoor wireless links.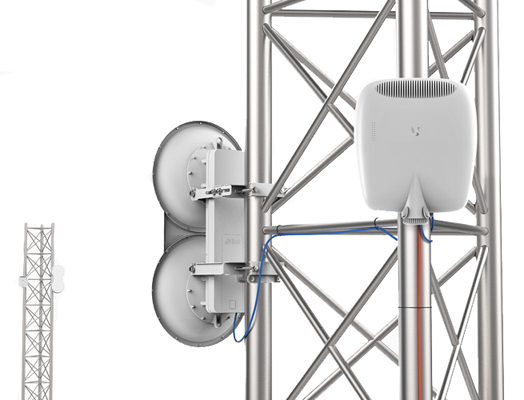 Product Views: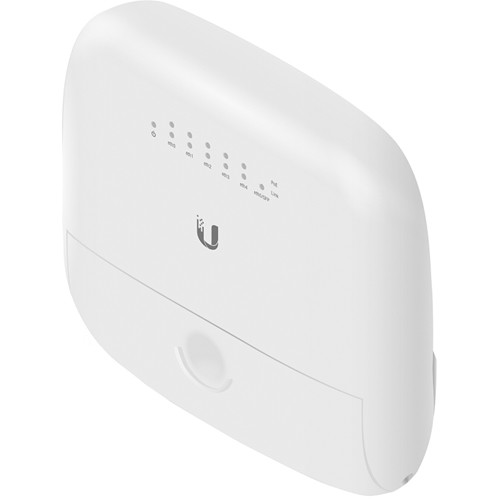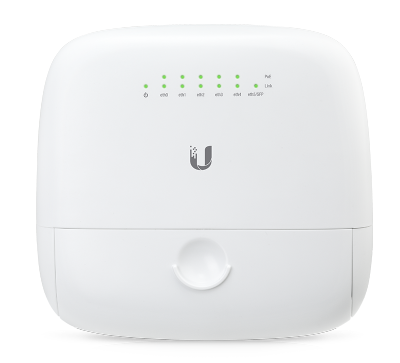 Front View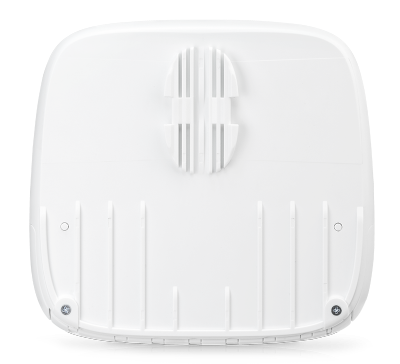 Back View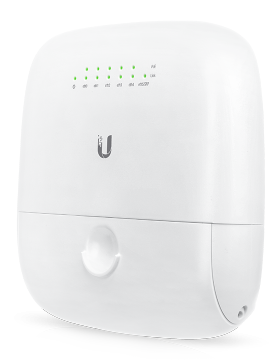 Angle View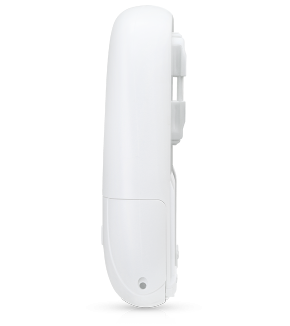 Side View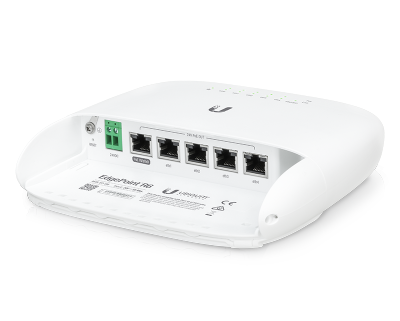 Bottom Angle View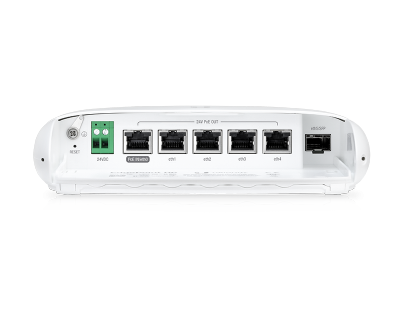 Bottom View
Specifications:


Bottom Panel View
EdgePoint R6 Specification
Dimensions
188.6 x 177.1 x 49.8 mm (7.43 x 6.97 x 1.96")
Weight
605 g (1.33 lb)
Enclosure Characteristics
Polycarbonate with UV Resistance
Max. Power Consumption
7W (Excludes PoE Output)
Power Input
(1) DC Terminal Block or (1) RJ45 (eth0)
(Self-Correcting Polarity Protection on DC Terminal Block Only, Diode ORed Protection on All Power Inputs)
Power Supply
Min. 24V / 0.3A (Excludes PoE Output Power)
VDC Input
24V, 3A
Passive PoE Input
(1) 24V / 1.4A, 4-Pair (+1, 2, 4, 5; -3, 6, 7, 8) Passive PoE, eth0
(Do NOT Configure eth0 in PoE Output Mode if You Are Using a PoE Input Power Source.)
Passive PoE Output
(5) 24V / 0.7A, 2-Pair (+4, 5; -7, 8) Passive PoE, eth0 to eth4
Power Monitoring
(1) DC Terminal Block, Input Power
(1) RJ45, eth0, Input Power
Supported Voltage Range
26 to 16VDC
Button
Reset
LEDs
System: Power
eth0 to eth4: Speed/Link/Activity, PoE
eth5/SFP: Speed/Link/Activity
Data Ports
(5) 10/100/1000 RJ45 Ports
(1) 1 Gbps SFP Port
Processor
Dual-Core 880 MHz, MIPS1004Kc
System Memory
256 MB DDR3-1600 RAM
Code Storage
256 MB NAND
Certifications
CE, FCC, IC
Pole Mount
Yes
Operating Temperature
-40 to 65° C (-40 to 149° F)
Operating Humidity
10 to 90% Noncondensing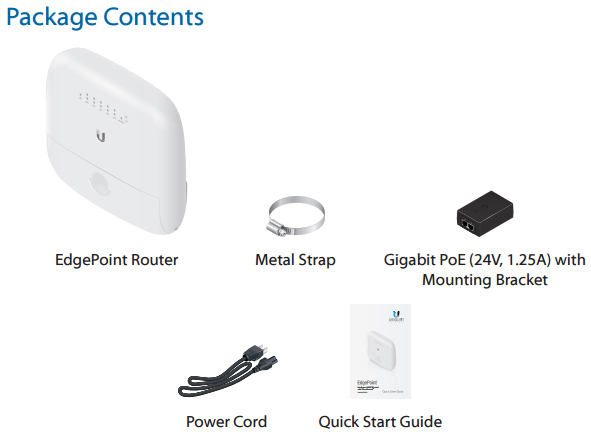 Software Specifications:
Software Information
Core Switching Features
ANSI/TIA-1057: LLDP-Media Endpoint Discovery (MED)
IEEE 802.1AB: Link Layer Discovery Protocol (LLDP)
IEEE 802.1D: Spanning Tree Compatibility
IEEE 802.1S: Multiple Spanning Tree Compatibility
IEEE 802.1W: Rapid Spanning Tree Compatibility
IEEE 802.1Q: Virtual LANs with Port-Based VLANs
IEEE 802.1p: Ethernet Priority with User Provisioning and Mapping
IEEE 802.1X: Port-Based Authentication with Guest VLAN Support
IEEE 802.3: 10BASE-T
IEEE 802.3u: 100BASE-T
IEEE 802.3ab: 1000BASE-T
IEEE 802.1ak: Virtual Bridged Local Area Networks - Amendment 07: Multiple Registration Protocol
IEEE 802.3ac: VLAN Tagging
IEEE 802.3ad: Link Aggregation
IEEE 802.3x: Flow Control
IEEE 802.1D-2004: Generic Attribute Registration Protocol: Clause 12 (GARP)
IEEE 802.1D-2004: Dynamic L2 multicast registration: Clause 10 (GMRP)
IEEE 802.1Q-2003: Dynamic VLAN registration: Clause 11.2 (GVRP)
RFC 4541: Considerations for Internet Group Management Protocol (IGMP) Snooping Switches
RFC 5171: Unidirectional Link Detection (UDLD) Protocol
Advanced Layer 2 Features
Broadcast Storm Recovery
Broadcast/Multicast/Unknown Unicast Storm Recovery
DHCP Snooping
IGMP Snooping Querier
Independent VLAN Learning (IVL) Support
Jumbo Ethernet Frame Support
Port MAC Locking
Port Mirroring
Protected Ports
Static MAC Filtering
TACACS+
Voice VLANs
Unauthenticated VLAN
Internal 802.1X Authentication Server
Platform Specifications
DHCP Server

Maximum Number of Pools: 128
Maximum Number of Leases (Total): 2048

Routing

Number of Routes: 16
Number of Routing Interfaces: 15

VLANs: 255
MAC Addresses: 8k
MSTP Instances: 4
LAGs: 6
ACLs: 100 with 10 Rules per Port
Traffic Classes (Queues): 8
Management
Web UI
Industry-Standard CLI
IPv6 Management
Password Management
Autoinstall Support for Firmware Images and Configuration Files
SNMP v1, v2, and v3
SSH 1.5 and 2.0
SSL 3.0 and TLS 1.0
Secure Copy (SCP)
Telnet (Multi-Session Support)
System Facilities
Event and Error Logging Facility
Run-Time and Configuration Download Capability
PING Utility
FTP/TFTP Transfers via IPv4/IPv6
Malicious Code Detection
BootP and DHCP
RFC 2021: Remote Network Monitoring Management Information Base Version 2
RFC 2030: Simple Network Time Protocol (SNTP)
RFC 2819: Remote Network Monitoring Management Information Base
RFC 2865: RADIUS Client
RFC 2866: RADIUS Accounting
RFC 2868: RADIUS Attributes for Tunnel Protocol Support
RFC 2869: RADIUS Extensions
RFC 3579: RADIUS Support for EAP
RFC 3580: IEEE 802.1X RADIUS Usage Guidelines
RFC 3164: BSD Syslog Protocol
Layer 3 Routing
Static Routing
Policy Based Routing
QoS
Access Control Lists (ACLs), Permit/Deny Actions for Inbound IP and Layer 2 Traffic Classification Based on:

Time-Based ACL
Source/Destination IP Address
TCP/UDP Source/Destination Port
IP Protocol Type
Type of Service (ToS) or Differentiated Services (DSCP) Field
Source/Destination MAC Address
EtherType
IEEE 802.1p User Priority
VLAN ID
RFC 1858: Security Considerations for IP Fragment Filtering

Optional ACL Rule Attributes

Assign Flow to a Specific Class of Service (CoS) Queue
Redirect Matching Traffic Flows

Differentiated Services (DiffServ)

Classify Traffic Based on Same Criteria as ACLs
Mark the IP DSCP or Precedence Header Fields, Optional
Police the Flow to a Specific Rate with Two-Color Aware Support
RFC 2474: Definition of the Differentiated Services Field (DS field) in the IPv4 and IPv6 Headers
RFC 2475: An Architecture for Differentiated Services
RFC 2597: Assured Forwarding Per-Hop Behavior (PHB) Group
RFC 3246: An Expedited Forwarding PHB
RFC 3260: New Terminology and Clarifications for DiffServ

Class of Service (CoS) Queue Mapping Configuration

AutoVoIP: Automatic CoS Settings for VoIP
IP DSCP-to-Queue Mapping
Configurable Interface Trust Mode (IEEE 802.1p, DSCP, or Untrusted)
Interface Egress Shaping Rate
Strict Priority versus Weighted Scheduling per Queue
Software:


EdgeMAX Software Platform
EdgeOS provides an intuitive, easy-to-use graphical user interface that makes router features simple to configure and monitor. It even comes with an integrated command-line interface (CLI) right in the browser, allowing access to all the advanced functions of the router.
Intuitive User Interface
The EdgePoint features a graphical user interface designed for convenient setup and control. Accessed via a network port and web browser, the user-friendly interface provides intuitive management with a virtual view of the ports, displaying physical connectivity, speed, and status.
Depending on whether you are configuring a router (EP-R6 or EP-R8) or switch (EP-S16), the configuration interface will differ.
Routing Configuration
The EP-R6 or EP-R8 offers robust features, including:
VLAN interfaces for network segmentation
Static routes and support of routing protocols: OSPF, RIP, and BGP
Firewall policies and NAT rules
Application identification with Deep Packet Inspection (DPI)
DHCP services
Quality of Service (QoS)
Network administration and monitoring tools
Administrator and operator accounts
Comprehensive IPv6 support
Switching Configuration
The EP-S16 provides advanced features, including:
MSTP/RSTP/STP
VLAN, Private VLAN, Voice VLAN
Link Aggregation
DHCP Snooping, IGMP Snooping
TACACS+, RADIUS, 802.1X, MAC Filtering, ACL
DiffServ, CoS
Static Routing, Policy-Based Routing
Configuration by CLI
The CLI provides quick and flexible configuration by command line and features the following:
For power users, configuration and monitoring of all advanced features
Direct access to standard Linux tools and shell commands (EP-R6 or EP-R8 only)
CLI access through the following:

Serial console port (EP-R8 or EP-S16 only)
SSH
Telnet
Graphical user interface (EP-R6 or EP-R8 only)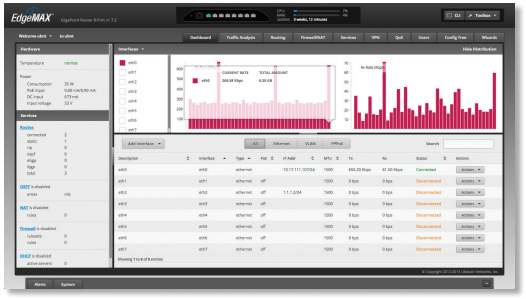 For the EP-R8, the Dashboard screen displays detailed statistics: IP information, MTU, transmit and receive speeds, and status for each interface.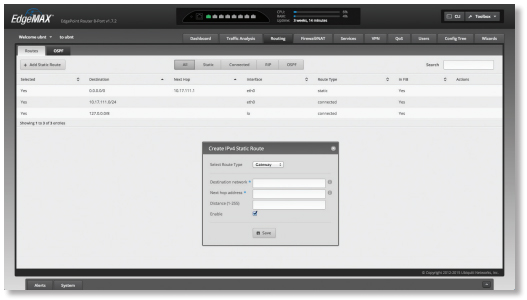 For the EP-R8, the Routing > Routes screen displays static, connected, RIP, and/or OSFP routes. You can add static routes on this screen.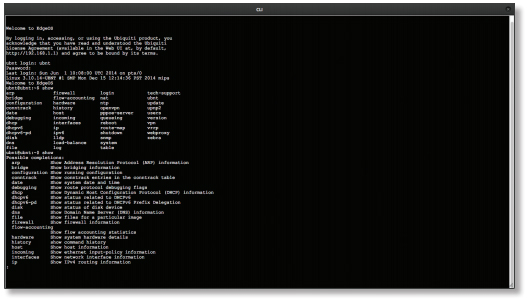 An industry-standard command-line interface (CLI) is available for advanced users.
EdgeOS Specifications
Interface/Encapsulation
Ethernet
802.1q VLAN
PPPoE
GRE
IP in IP
Bridging
Bonding (802.3ad)
Addressing
Static IPv4/IPv6 Addressing
DHCP/DHCPv6
Routing
Static Routes
OSPF/OSPFv3
RIP/RIPng
BGP (with IPv6 Support)
IGMP Proxy
Security
ACL-Based Firewall
Zone-Based Firewall
Application Identification with Deep Packet Inspection (DPI)
NAT
VPN
IPSec Site-to-Site and Remote Access
OpenVPN Site-to-Site and Remote Access
PPTP Remote Access
L2TP Remote Access
PPTP Client
Services
DHCP/DHCPv6 Server
DHCP/DHCPv6 Relay
Dynamic DNS
DNS Forwarding
VRRP
RADIUS Client
Web Caching
PPPoE Server
QoS
FIFO
Stochastic Fairness Queueing
Random Early Detection
Token Bucket Filter
Deficit Round Robin
Hierarchical Token Bucket
Ingress Policing
Management
Web UI
CLI (Console, SSH, Telnet)
SNMP
NetFlow
LLDP
NTP
UBNT Discovery Protocol
Logging
Miscellaneous: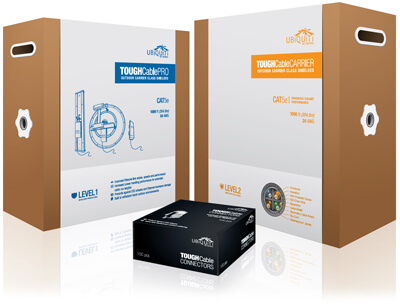 Protect your networks from the most brutal environments with Ubiquiti's industrialgrade shielded ethernet cable, TOUGHCable.
Increase Performance - Dramatically improve your ethernet link states, speeds, and overall performance with Ubiquiti TOUGHCables.
Extreme Weatherproof - TOUGHCables have been built to perform even in the harshest weather and environments.
ESD Damage Protection - Protect your networks from devastating electrostatic discharge (ESD) attacks.
Extended Cable Support - TOUGHCables have been developed to have increased power handling performance for extended cable run lengths.
Bulletproof your networks
TOUGHCable is currently available in two versions: PRO Shielding Protection and CARRIER Shielding Protection.
TOUGHCable PRO is a Category 5e, outdoor, carrier-class shielded cable with an integrated ESD drain wire.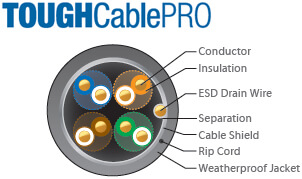 TOUGHCable CARRIER is a Category 6, outdoor, carrier-class shielded cable that features an integrated ESD drain wire, anti-crosstalk divider, and secondary shielding. It is rated to provide optimal performance on Gigabit Ethernet networks.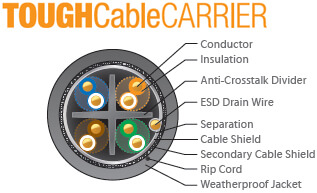 Additional Information:
24 AWG copper conductor pairs
26 AWG integrated ESD drain wire to prevent ESD attacks and damage
PE outdoor-rated, weatherproof jacket
Multi-layered shielding
Available in lengths of 1000 ft (304.8 m)
TOUGHCable Connectors
Specifically designed for use with Ubiquiti TOUGHCables and available in 100 pc. bags, TOUGHCable Connectors protect against ESD attacks and Ethernet hardware damage while allowing rapid field deployment without soldering.
ESD attacks are the leading cause for device failures. The diagram below illustrates the areas vulnerable to ESD attacks in a network.
By using a grounded Ubiquiti Power over Ethernet (PoE) Adapter along with Ubiquiti TOUGHCable and TOUGHCable Connectors, you can effectively protect against ESD attacks.
Pricing Notes:
Pricing and product availability subject to change without notice.
EdgeMAX EdgePoint Series
EdgePoint Router, 6 port
#EP-R6
Our Price: $140.00
TOUGHCable
UISP Cable Pro
#UISP-CABLE-PRO
Our Price: $135.00
UISP Cable Carrier
#UISP-CABLE-CARRIER
Our Price: $180.00
Ubiquiti TOUGHCable Connectors
1 Box of 100 PCs, Category 5 RJ-45 Plug, Shielded
#TC-CON
Our Price: $50.00