Ubiquiti UniFi Switch 8 150W

8-port Managed PoE+ Gigabit Switches with SFP

Ubiquiti Products
UniFi Switching & Routing Series
UniFi Switch, 8, 150W
#US-8-150W
Our Price: $199.00
Click here to jump to more pricing!
Overview:
Build and expand your network with Ubiquiti Networks UniFi Switch, part of the UniFi line of products. The UniFi Switch is a fully managed, PoE+ Gigabit switch, delivering robust performance and intelligent switching for growing networks.
UniFi Switch 8 (150W Model)
Model: US-8-150W
(8) Gigabit RJ45 Ports
(2) SFP Ports
Non-Blocking Throughput: 10 Gbps
Switching Capacity: 20 Gbps
Forwarding Rate: 14.88 Mpps
Maximum Power Consumption: 150W
Supports POE+ IEEE 802.3at/af and 24V Passive PoE
Quiet, Fanless Operation
Rackmountable with Rack-Mount Brackets (Included)
Desktop-Mountable (Do not physically stack the US-8-150W.)
Switching Performance
The UniFi Switch offers the forwarding capacity to simultaneously process traffic on all ports at line rate without any packet loss.
PoE+ Flexibility
The UniFi Switch models are available with 8, 16, 24, or 48 PoE Gigabit Ethernet ports of auto-sensing IEEE 802.3af/at or configurable 24V passive PoE to simplify your infrastructure. By default, the UniFi Switch automatically detects 802.3af/at devices so they automatically receive PoE.
Fiber Connectivity
The UniFi Switch provides fiber connectivity options for easy expansion of your networks. Each UniFi Switch model includes two SFP ports for uplinks of up to 1 Gbps.
Features:
Versatile Port Configuration
Eight Gigabit RJ45 ports offer different power output options: auto-sensing IEEE 802.3af/at PoE/PoE+ and 24V passive PoE, and two SFP ports provide optical fiber connectivity options to support uplinks of up to 1 Gbps.

Integration with UniFi Controller
The compact UniFi Switch can be placed on a desktop and integrates with the UniFi Controller software for centralized management of your UniFi devices.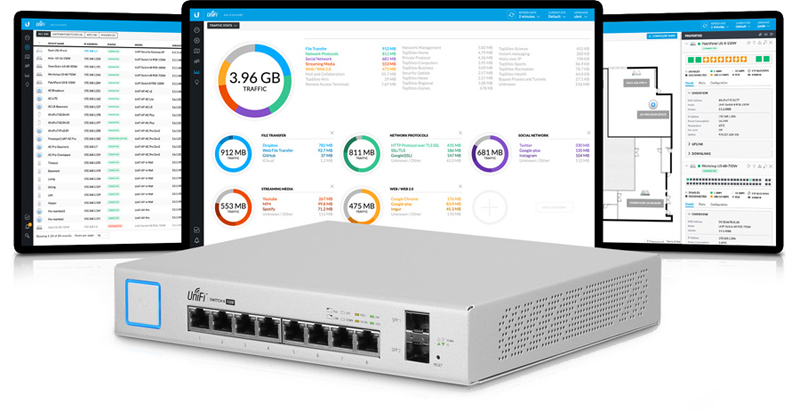 Advanced Enterprise Switching
The UniFi Switch supports 802.1X authentication, dynamic and static VLAN tagging, port isolation, storm control, and guest control.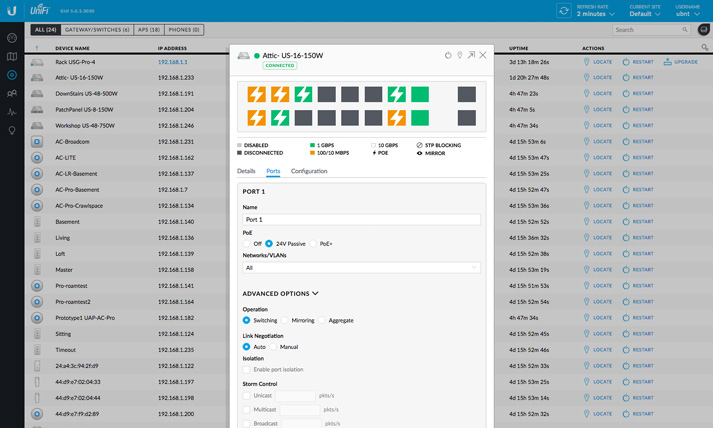 Product Views: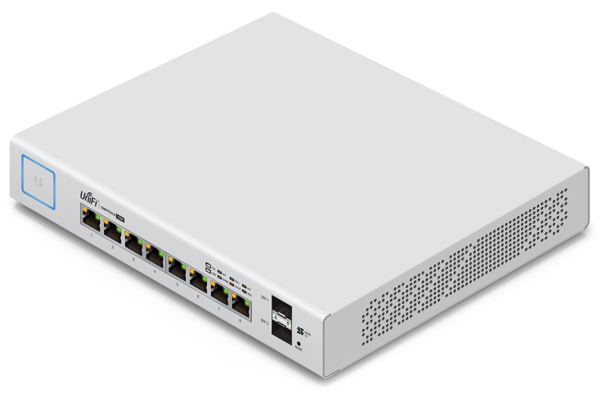 Front View


Rear View




Front Panel System and Port LEDs
Deployment:
Network Topology
A DHCP-enabled network for the UniFi Switch to obtain an IP address (connected devices will also obtain IP addresses after deployment)
A UniFi Cloud Key or management station running the UniFi Controller v4.8.5 (or newer) software, located either on-site and connected to the same Layer 2 network, or off-site in a cloud or NOC
Example of a UniFi Switch System

Sample Network Diagram

Specifications:


Front Panel View
UniFi Switch 8 (150W) Specifications
Dimensions
204 x 43 x 235 mm (8.03 x 1.69 x 9.25")
Weight
Rack-Mount Brackets Excluded: 1.65 kg (3.67 lb)
Rack-Mount Brackets Included: 1.7 kg (3.75 lb)
Networking Interfaces
(8) 10/100/1000 Mbps RJ45 Ethernet Ports
(2) 1 Gbps SFP Ethernet Ports
Management Interface
Ethernet In-Band
Total Non-Blocking Throughput
10 Gbps
Switching Capacity
20 Gbps
Forwarding Rate
14.88 Mpps
Power Method
100-240VAC/50-60 Hz, Universal Input
Power Supply
AC/DC, Internal, 150W DC
Max. Power Consumption
Including PoE Output: 150W
Excluding PoE Output: 20W
LEDs Per Port
RJ45 Data Ports: PoE, Speed/Link/Activity
SFP Data Ports: Speed/Link/Activity
Sound Level
34 dBa
ESD/EMP Protection
Air: ± 24 kV, Contact: ± 24 kV
Shock and Vibration
ETSI300-019-1.4 Standard
Operating Temperature
-5 to 40° C (23 to 104° F)
Operating Humidity
5 to 95% Noncondensing
Certifications
CE, FCC, IC
PoE Per Port
PoE Interfaces
POE+ IEEE 802.3af/at (Pins 1, 2+; 3, 6-)
24VDC Passive PoE (Pins 4, 5+; 7, 8-)
Max. PoE+ Wattage per Port by PSE
34.2W
Voltage Range 802.3at Mode
50–57V
Max. Passive PoE Wattage per Port
17W
24V Passive PoE Voltage Range
20-27V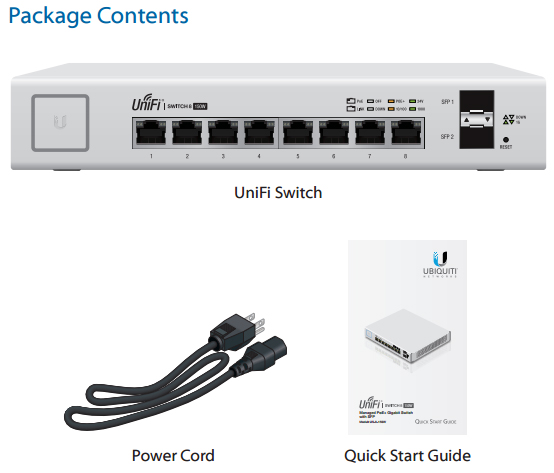 Software: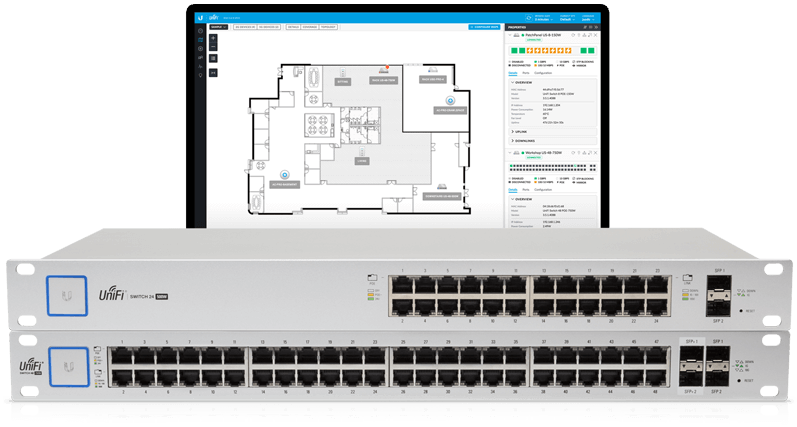 Advanced Network Switching
Managed by the UniFi Controller software, the UniFi Switch delivers powerful performance, intelligent switching, and PoE+ support for your enterprise networks.
UniFi Controller
Designed for convenient management, the UniFi Controller software allows admins to configure and monitor the UniFi Switch and other UniFi devices using a graphical user interface. You can download it from www.ubnt.com at no extra charge – there is no separate software, licensing, or support fee.
Multi-Site Management
A single instance of the UniFi Controller running in the cloud can manage multiple UniFi sites within a centralized interface. Each site is logically separated and has its own network monitoring, configuration, maps, statistics, and admin accounts.
Switch Configuration
You can access any managed UniFi Switch through the UniFi Controller to configure a variety of features:
PoE setting per port
Operation mode (switching, mirroring, or aggregate) per port
Network/VLAN configuration
Jumbo frame and flow control services
Network settings
Storm control setting per port
Spanning tree configuration
Switch Port Status
You can also view status information for each port:
Connection speed and duplex mode
TX/RX data rates
PoE status
Network/VLAN setting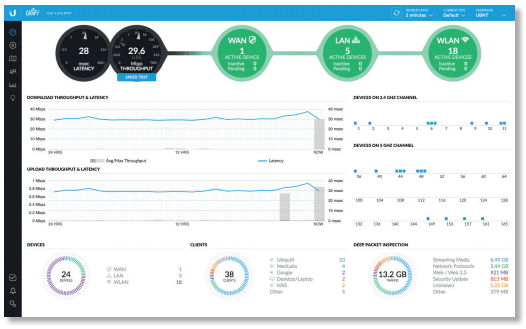 Dashboard
The Dashboard tab provides a visual representation of your network's status. Basic information is provided for each network segment.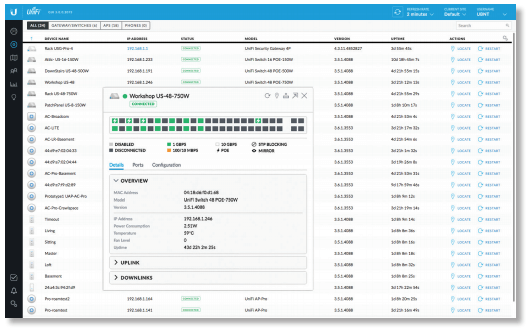 Device Configuration
The Devices screen displays the UniFi devices discovered by the UniFi Controller. You can access each managed device for device details and configuration.
Miscellaneous: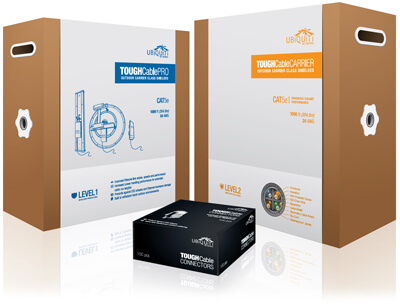 Protect your networks from the most brutal environments with Ubiquiti's industrialgrade shielded ethernet cable, TOUGHCable.
Increase Performance - Dramatically improve your ethernet link states, speeds, and overall performance with Ubiquiti TOUGHCables.
Extreme Weatherproof - TOUGHCables have been built to perform even in the harshest weather and environments.
ESD Damage Protection - Protect your networks from devastating electrostatic discharge (ESD) attacks.
Extended Cable Support - TOUGHCables have been developed to have increased power handling performance for extended cable run lengths.
Bulletproof your networks
TOUGHCable is currently available in two versions: PRO Shielding Protection and CARRIER Shielding Protection.
TOUGHCable PRO is a Category 5e, outdoor, carrier-class shielded cable with an integrated ESD drain wire.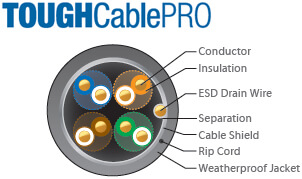 TOUGHCable CARRIER is a Category 6, outdoor, carrier-class shielded cable that features an integrated ESD drain wire, anti-crosstalk divider, and secondary shielding. It is rated to provide optimal performance on Gigabit Ethernet networks.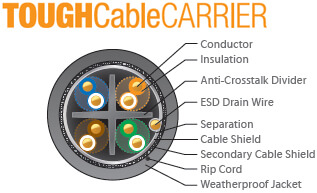 Additional Information:
24 AWG copper conductor pairs
26 AWG integrated ESD drain wire to prevent ESD attacks and damage
PE outdoor-rated, weatherproof jacket
Multi-layered shielding
Available in lengths of 1000 ft (304.8 m)
TOUGHCable Connectors
Specifically designed for use with Ubiquiti TOUGHCable, TOUGHCable Connectors protect against ESD attacks and Ethernet hardware damage, while allowing rapid field deployment without soldering. The standard TOUGHCable Connectors are available in a box of 100, while the TC-GND versions include ground wires and are available in a box of 20.
ESD attacks are the leading cause for device failures. The diagram below illustrates the areas vulnerable to ESD attacks in a network.
By using a grounded Ubiquiti Power over Ethernet (PoE) Adapter along with Ubiquiti TOUGHCable and TOUGHCable Connectors, you can effectively protect against ESD attacks.
Pricing Notes:
Pricing and product availability subject to change without notice.
Ubiquiti Products
UniFi Switching & Routing Series
UniFi Switch, 8, 150W
#US-8-150W
Our Price: $199.00
TOUGHCable
UISP Cable Pro
#UISP-CABLE-PRO
Our Price: $135.00
UISP Cable Carrier
#UISP-CABLE-CARRIER
Our Price: $180.00
Tough Cable Connectors
#TC-Con
Our Price: $1,250.00