Ubiquiti UniFi Security Gateway

Enterprise Gateway Router with Gigabit Ethernet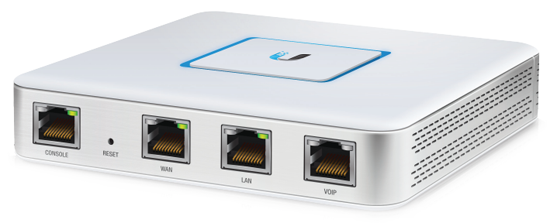 Sorry, this product is no longer available, please contact us for a replacement.
Click here to jump to more pricing!
Overview:

Ubiquiti Networks introduces the UniFi Security Gateway, which extends the UniFi Enterprise System to encompass routing and security for your network. The USG features a compact form factor and fanless operation for discreet integration.
The UniFi Security Gateway combines advanced security features with high-performance routing technology in a compact and cost-effective unit.
Capable of routing up to 1 million packets per second, the UniFi Security Gateway can be easily configured through the intuitive UniFi Controller software, which also manages the UniFi Access Points for wireless networking.
Additional features include:
(3) 10/100/1000 RJ45 Ports*
(1) RJ45 Serial Console Port
Quiet, Fanless Operation
Wall-Mounting Capability
Layer 3 Forwarding Performance

Packet Size of 64 Bytes: 1,000,000 pps
Packet Size of 512 Bytes or Larger: 3 Gbps (Line Rate)
* VOIP port is available for port remapping in UniFi v5
Features:
Integration with UniFi Controller
Bundled at no extra charge, the UniFi Controller software conducts device discovery, provisioning, and management of the UniFi Security Gateway and other UniFi devices through a single, centralized interface.
Powerful Firewall Performance
The UniFi Security Gateway offers advanced firewall policies to protect your network and its data.

Convenient VLAN Support
The UniFi Security Gateway can create virtual network segments for security and network traffic management.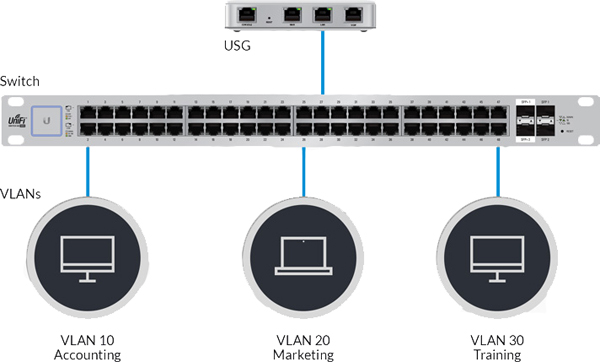 VPN Server for Secure Communications
A site-to-site VPN secures and encrypts private data communications traveling over the Internet.

QoS for Enterprise VoIP
Top QoS priority is assigned to voice/video call traffic for clear calls and lag-free, video streaming.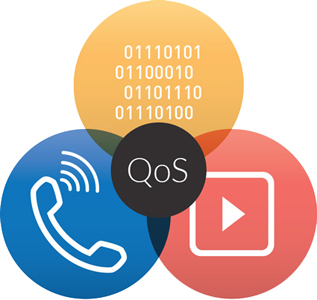 Product Views: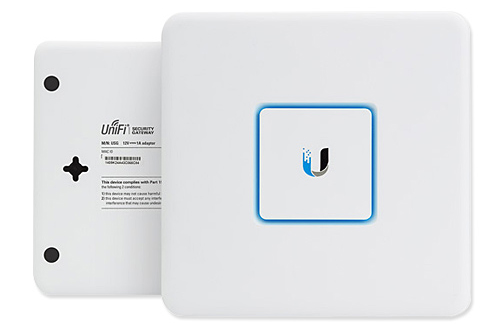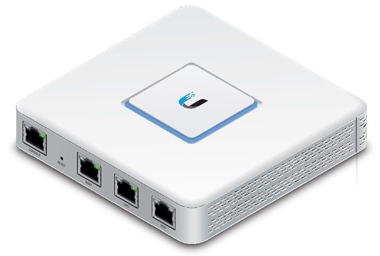 Top View

Left Angle View

Front Ports View

Side View
Deployment:
As part of the UniFi Enterprise System, the UniFi Security Gateway is deployed in the same manner as UniFi APs. Detection, provisioning, and management are all conducted from the UniFi Controller.
The UniFi Controller may reside on a management station located either on-site and connected to the same Layer-2 network, or off-site in a cloud or NOC.
Example of a UniFi Enterprise System

Specifications: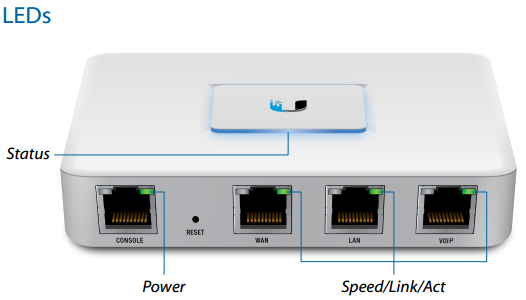 UniFi Security Gateway Specifications
Dimensions
135 x 135 x 28.3 mm (5.32 x 5.32 x 1.11")
Weight
366 g (12.9 oz)
Processor
Dual-Core 500 MHz, MIPS64
System Memory
512 MB DDR2 RAM
On-Board Flash Storage
2 GB
Max. Power Consumption
7W
Power Supply
12VDC, 1A Power Adapter (Included)
Power Input
9 to 24VDC, Supported Voltage Range
Certifications
CE, FCC, IC
Wall-Mountable
Yes
Operating Temperature
-10 to 45° C (14 to 113° F)
Operating Humidity
10 to 90% Noncondensing
Layer 3 Forwarding Performance
Packet Size: 64 Bytes
1,000,000 pps
Packet Size: 512 Bytes or Larger
3 Gbps (Line Rate)
Networking Interfaces
Serial Console Port
(1) RJ45 Serial Port
Data Ports
(3) 10/100/1000 Ethernet Ports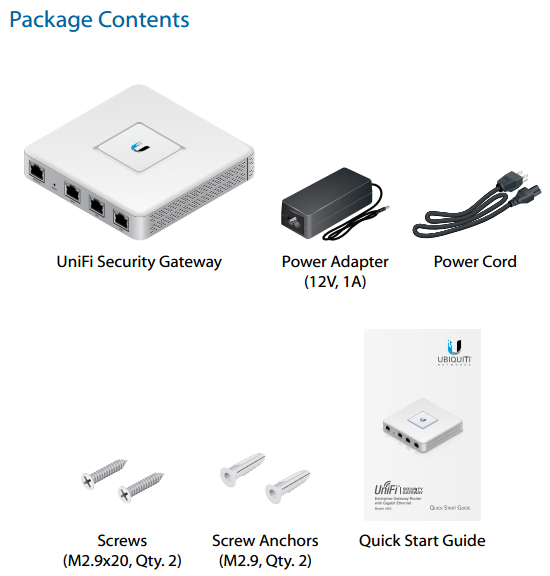 Software: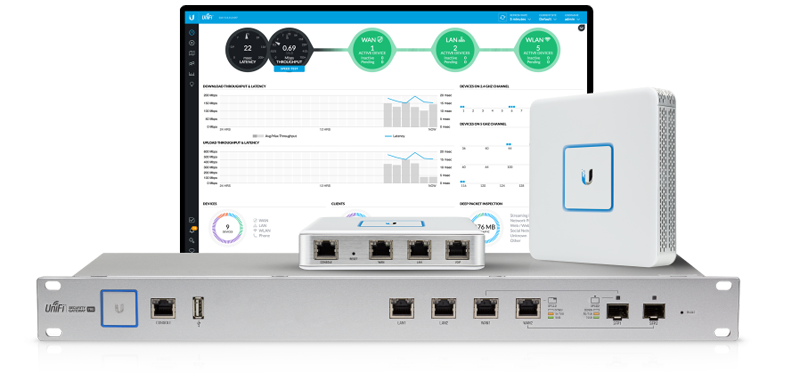 High-Performance Routing and Advanced Security
The UniFi Security Gateway extends the reach of the UniFi Enterprise System to route, secure, and manage your network for optimal performance and reliability.
UniFi Controller
Introducing the new UniFi Controller software featuring a refreshed UI and support for the next generation of UniFi devices.
Improved User Experience
Redesigned to be more intuitive and easier to navigate, the new UI raises the bar for enterprise network management efficiency. Important network details are logically organized for a simplified, yet powerful, interface.
Packed with Features
Use the UniFi Controller to provision thousands of UniFi APs and UniFi Security Gateways, map out networks, quickly manage system traffic, and provision additional UniFi devices.
Network Overview
A comprehensive overview of your Network Health is readily available in the new dashboard. Monitor your network's vitals and make on-the-fly adjustments as needed.
Detailed Analytics
Use the configurable reporting and analytics to monitor large user groups and expedite troubleshooting. Advanced search and sorting capabilities make network management more efficient.
Multi-Site Management
A single UniFi Controller running in the cloud can manage multiple sites: multiple, distributed deployments and multi-tenancy for managed service providers. Each site is logically separated and has its own configuration, maps, statistics, guest portal, and administrator read/write and read-only accounts.
LAN/WLAN Groups
The UniFi Controller can manage flexible configurations of large deployments. Create multiple LAN and WLAN groups and assign them to the respective UniFi devices.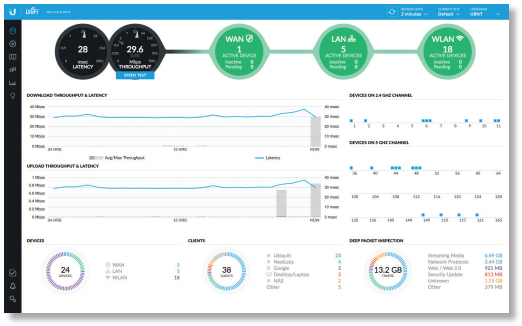 Dashboard
UniFi provides a visual representation of your network's status and delivers basic information about each network segment.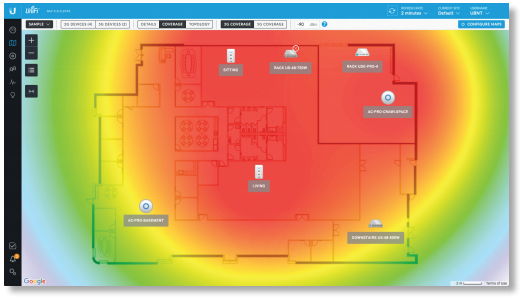 Maps
Upload a map of your location(s) or use Google Maps to represent the areas where your UniFi devices are located.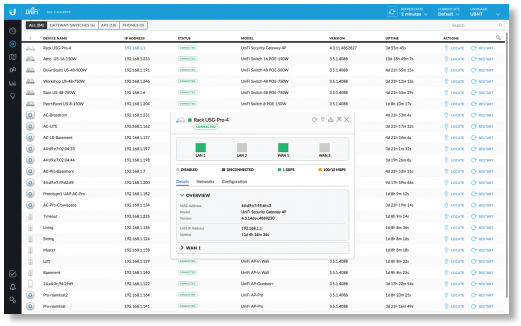 Device Configuration
The Devices screen displays a list of UniFi devices discovered by the UniFi Controller. You can access each managed device for device details and configuration.
Miscellaneous: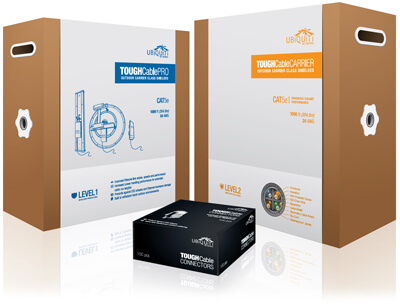 Protect your networks from the most brutal environments with Ubiquiti's industrialgrade shielded ethernet cable, TOUGHCable.
Increase Performance - Dramatically improve your ethernet link states, speeds, and overall performance with Ubiquiti TOUGHCables.
Extreme Weatherproof - TOUGHCables have been built to perform even in the harshest weather and environments.
ESD Damage Protection - Protect your networks from devastating electrostatic discharge (ESD) attacks.
Extended Cable Support - TOUGHCables have been developed to have increased power handling performance for extended cable run lengths.
Bulletproof your networks
TOUGHCable is currently available in two versions: PRO Shielding Protection and CARRIER Shielding Protection.
TOUGHCable PRO is a Category 5e, outdoor, carrier-class shielded cable with an integrated ESD drain wire.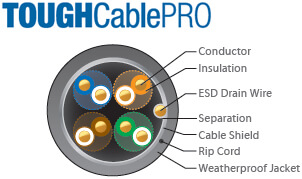 TOUGHCable CARRIER is a Category 6, outdoor, carrier-class shielded cable that features an integrated ESD drain wire, anti-crosstalk divider, and secondary shielding. It is rated to provide optimal performance on Gigabit Ethernet networks.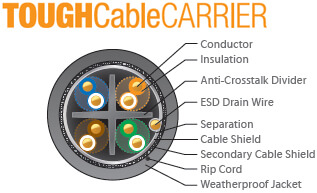 Additional Information:
24 AWG copper conductor pairs
26 AWG integrated ESD drain wire to prevent ESD attacks and damage
PE outdoor-rated, weatherproof jacket
Multi-layered shielding
Available in lengths of 1000 ft (304.8 m)
TOUGHCable Connectors
Specifically designed for use with Ubiquiti TOUGHCable, TOUGHCable Connectors protect against ESD attacks and Ethernet hardware damage, while allowing rapid field deployment without soldering. The standard TOUGHCable Connectors are available in a box of 100, while the TC-GND versions include ground wires and are available in a box of 20.
ESD attacks are the leading cause for device failures. The diagram below illustrates the areas vulnerable to ESD attacks in a network.
By using a grounded Ubiquiti Power over Ethernet (PoE) Adapter along with Ubiquiti TOUGHCable and TOUGHCable Connectors, you can effectively protect against ESD attacks.
Pricing Notes:
Pricing and product availability subject to change without notice.
Ubiquiti Products
TOUGHCable
UISP CABLE PRO 305M CAT5E
#UISP-Cable-Pro
Our Price: $135.00
UISP CABLE PRO 305M CAT5E
#UISP-Cable-Carrier
Get a Quote!
Tough Cable Connectors 100PK