Ubiquiti EdgePower

Modular DC Power Supply for EdgePoint

Ubiquiti Products
EdgePower Series
EdgePower 24V-72W
#EP-24V-72W
Our Price: $159.00
EdgePower 54V-72W
#EP-54V-72W
Our Price: $159.00
EdgePower, 54v, 150W
#EP-54V-150W
Our Price: $195.00
EdgePower Secondary PSU Modules
EdgePower, 54V, 150W, AC/DC Module
#EP-54V-150W-AC
Our Price: $79.00
EdgePower, 54V, 150W, DC/DC Module with built-in battery charger
#EP-54V-150W-DC
Our Price: $79.00
Click here to jump to more pricing!
Overview:
The EdgePower is a high-power, modular PSU system designed to connect to EdgePoint routers/switches, and provide reliable power to attached PoE devices. The EdgePower uses modular PSUs for flexible configuration options. The EdgePower can utilize two modular PSUs to provide up to 300W of power, or be configured to provide up to 150W of power with an automatic PSU backup.
The EdgePower consists of a rack-mountable, two-bay housing and control unit, and includes one AC-DC 54V, 150W PSU module. The second PSU bay can house an AC-DC or DC-DC PSU module (sold separately):
EP-54V-150W-AC
EP-54V-150W-DC
Advanced Routing Technology for the Masses
Ubiquiti Networks introduces the EdgePoint, part of the EdgeMAX platform. The first application-specific designed WISP control point, the EdgePoint combines EdgeMAX routing features with fiber backhaul and versatile powering capabilities. The EdgePoint offers an innovative combination of robust routing performance, fiber backhaul capability, and the convenience of passive PoE support.
Features:
Versatile, Modular Design
The rack-mountable EdgePower features two PSU bays. One 54V, 150W AC-DC module is included, and an optional AC-DC or DC-DC module is available.

High Power
The EdgePower provides up to 150W of power output. With an optional PSU in the secondary bay, the EdgePower may be configured to deliver up to 300W of power.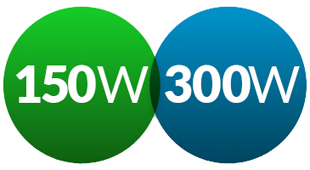 Backup PSU
The secondary PSU may be configured as a backup PSU. In backup mode, the secondary PSU remains inactive and offline. If failure of the primary PSU is detected, the secondary PSU automatically activates to supply continuous power.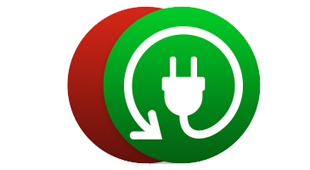 EdgePower Tower Deployment Example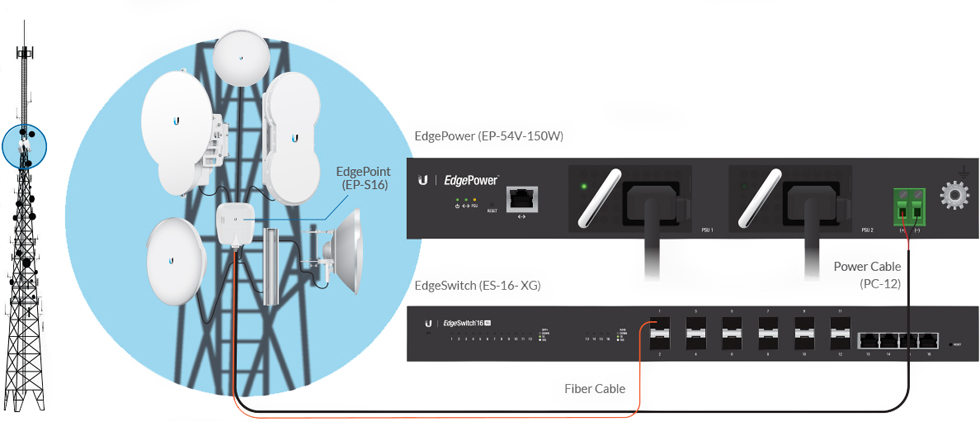 Remote Monitoring and Configuration
Designed for convenient management, the EdgePower Configuration Interface allows administrators to configure and monitor PSU features in a simple, graphical user interface. The EdgePower may be connected to the LAN for remote monitoring and configuration.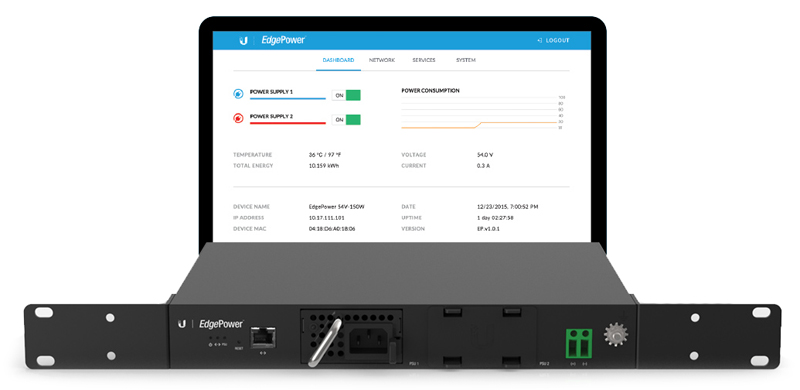 Product Views: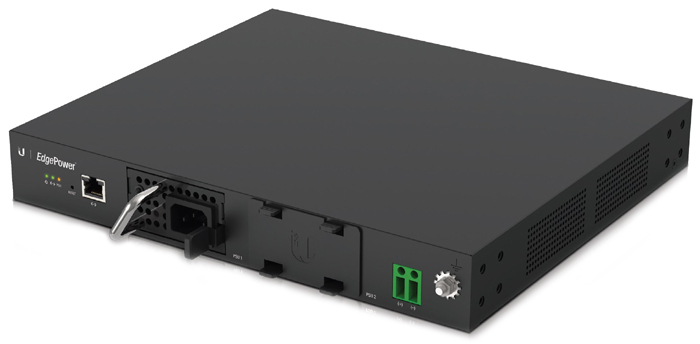 Angle View




With Mount Brackets




Side View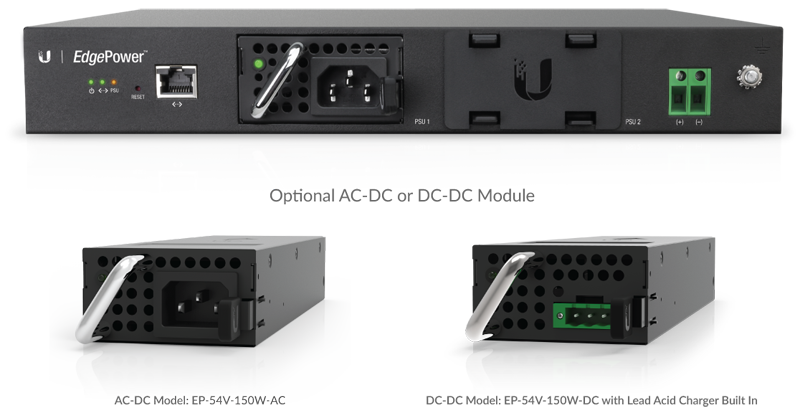 Specifications:


Front Panel View
EdgePower ES-54V-150W Specification
Dimensions without Mount Brackets
299.8 x 286.9 x 42.55 mm (11.89 x 11.3 x 1.675")
Weight without Mount Brackets
2.7 kg (5.95 lb)
Power Method
100-240VAC/50-60 Hz, Universal Input
Power Supply Module
54V, 150W AC/DC,
Model EP-54V-150W-AC,
Installed in PSU 1
Maximum Power Output
150W (1 PSU Module)
300W (2 PSU Modules @ 150W Each)
LEDs
Power: System On/Off
Ethernet: Management Port Link
PSU: PSU1+PSU2, PSU1/PSU2
Networking Interface
(1) 10/100 RJ45 Ethernet
Management Interface
Ethernet In-Band, Web UI
Rack-Mount
Yes, 1U High
Operating Temperature
0 to 40° C (32 to 104° F)
Operating Humidity
10 to 90% Noncondensing
ESD/EMP Protection
Air ± 24KV; Contact ± 24KV
Certifications
CE, FCC, IC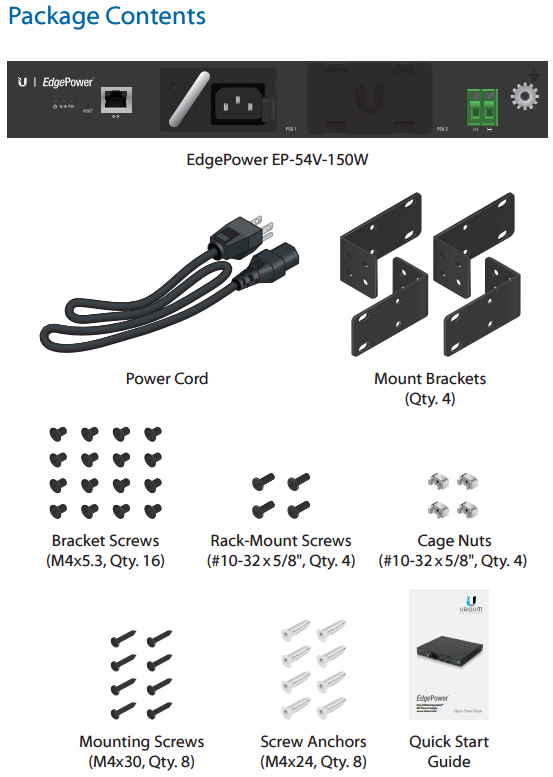 Miscellaneous: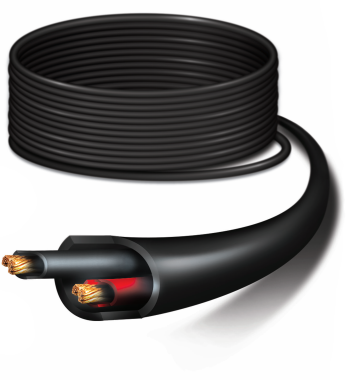 Model: PC-12
Carrier-Grade Outdoor Electrical Cable
Available in 1000 ft (304 m) lengths, PowerCable is manufactured to engineering specifications to supplies reliable DC power to your EdgePoint devices.
All-Weather, UV-Resistant
12 AWG Tinned Stranded Copper
Fire-Resistant Polyethylene Jacket (FT-1)
Temperature Range: -30 to 90° C
Pull Tension: 80 lb Minimum
Capacitance: 28 pF/ft @ 1 kHz
DCR: 1.77 Ω/1000 ft @ 20° C
Voltage Rating: 300V
Impedance: 56 Ω
Built to Last
PowerCable is an all-weather, UV-resistant cable designed for outdoor installations. PowerCable uses a fire-resistant, polyethylene jacket (FT-1) and operates in a temperature range from -30 to 90° C.

Reliable High Power
PowerCable features 12 AWG stranded tinned copper conductors, capacitance of 28 pF/ft @ 1 kHz, DCR of 1.77 Ω/1000 ft @ 20° C, voltage rating at 300V, and impedance of 56 Ω.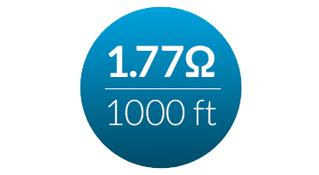 PowerCable Tower Deployment Example



Pricing Notes:
Pricing and product availability subject to change without notice.
EdgePower Series
EdgePower 24V-72W
#EP-24V-72W
Our Price: $159.00
EdgePower 54V-72W
#EP-54V-72W
Our Price: $159.00
EdgePower, 54v, 150W
#EP-54V-150W
Our Price: $195.00
EdgePower Secondary PSU Modules
Ubiquiti EdgePower Secondary AC PSU Module
#EP-54V-150W-AC
Our Price: $79.00
EdgePower, 54V, 150W, DC/DC Module with built-in battery charger
#EP-54V-150W-DC
Our Price: $79.00
PowerCable
PowerCable, 12AWG
#PC-12
Our Price: $599.00