Ubiquiti airFiber AF-5G34-S45

5 GHz, 34 dBi Slant 45 Antenna for airFiber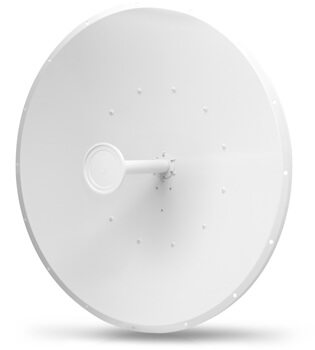 Ubiquiti Products
airFiber X Antenna
5GHZ AIRFIBER DISH 34DBI SLANT
#AF-5G34-S45
Our Price: $339.00
Click here to jump to more pricing!
Overview:
The airFiber X Antennas feature significant advances in noise isolation and beam performance to complement the airFiber X radios for carrier backhauls and Point-to-Point (PtP) bridging (airFiber X radio sold separately).
Powerful Performance
The airFiber X antenna delivers 2x2, dual-polarity performance. On the right is one example of how the airFiber X antenna with an airFiber X radio can be deployed as endpoints in a backhaul link to deliver bandwidth from a WISP network out to a neighborhood tower. From there, an airMAX Sector antenna with a Rocket radio delivers bandwidth to the WISP's customers.
Application Example

Carrier-Class Construction
Incorporating a dish reflector design for excellent beam directivity, the airFiber X antennas feature robust mechanical design using industrial‑strength hardware for outdoor application use.
Plug and Play Integration
airFiber X antennas and airFiber X radios have been designed to seamlessly work together. Every airFiber X antenna has a built-in airFiber X radio mount, so installation requires no special tools. Snap the airFiber X radio securely into place and mount the antenna; you then have the optimal combination of airFiber X antenna and airFiber X radio for your PtP application.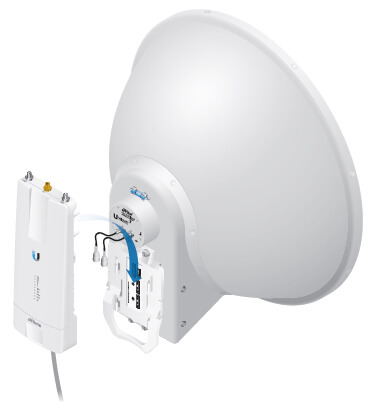 Mounting the AF-5X (airFiber X radio sold separately)
Features:
Innovative Mechanical Design
Secure Pole-Mounting
Maintains the position of the dish during harsh outdoor conditions.
Low-Profile Form Factor of the AF-5G23-S45
Reduces wind-loading.
Weatherproof Design
Protective Shroud
Protects the cables and connectors from the elements.
Integrated Radome of the AF-5G23-S45
Shields the radio from the environment.
Compact Footprint for Deployment Flexibility
The compact form factor allows the airFiber X Antennas to be used in various applications, from carrier backhauls between towers to PtP bridging between buildings.
The airFiber X supports ± 45° slant polarization for improved noise immunity and Signal-to-Noise Ratio (SNR). The compact form factor of the airFiber X allows it to fit into the radio mount of Ubiquiti antennas, so installation requires no special tools.
The airFiber X antennas are purpose-built with 45° slant polarity for seamless integration with the airFiber X.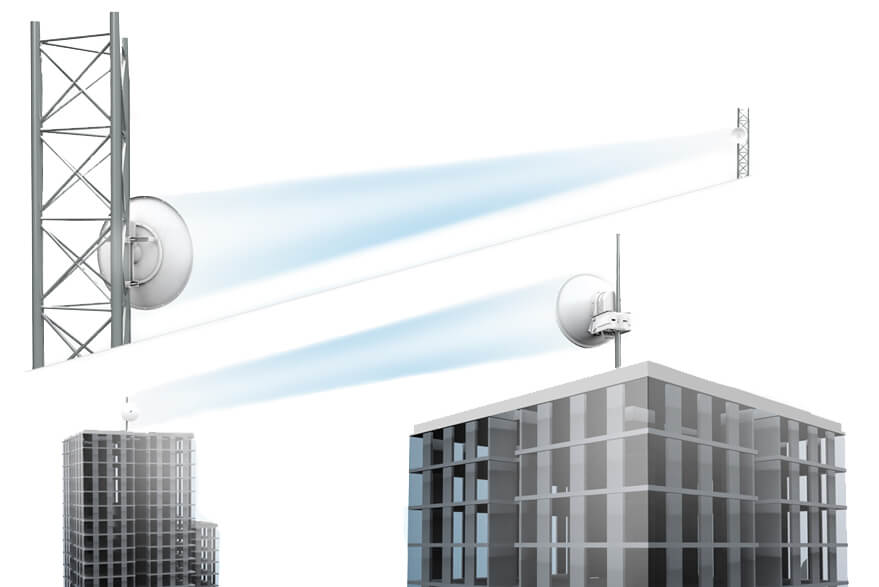 Avanced RF Isolation Design
The innovative industrial design improves RF isolation to significantly reduce interference and deliver superior gain for high-capacity, multipoint networks. The near-field plot of the AF-5G23-S45 is displayed in watts and uses a linear scale. The strength of the electromagnetic field is color-coded:
Red: Highest strength
Green: Medium strength
Indigo: Lowest strength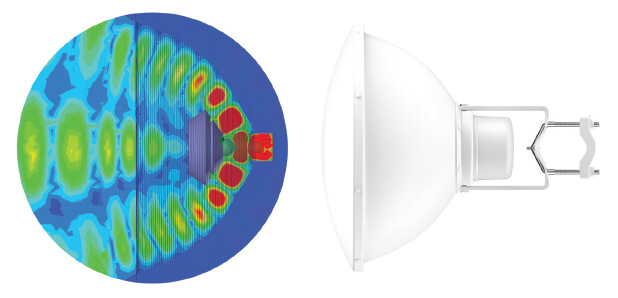 airFiber X Conversion Kit
The 5 GHz RocketDish to airFiber Antenna Conversion Kit, model AF-5G-OMT-S45, converts the RocketDish RD-5G30 or RD-5G34 antenna for use with the airFiber AF-5X radio.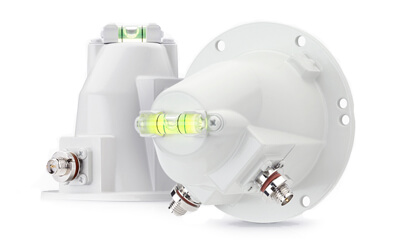 Product Views: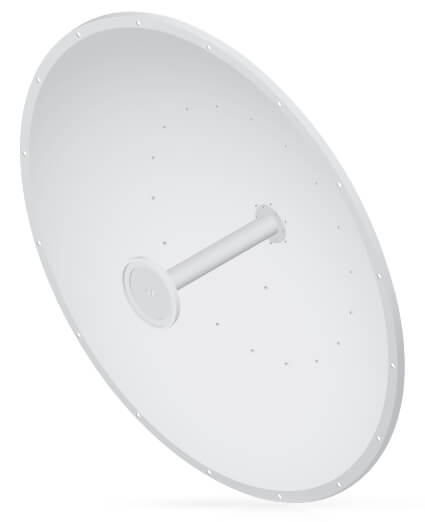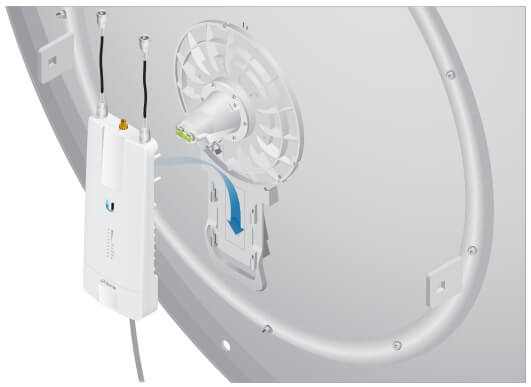 Rear View with airFiber X radio
(airFiber X radio sold separately)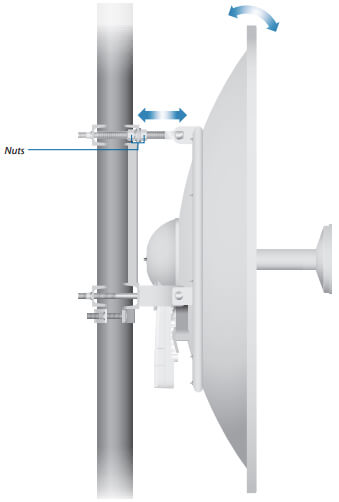 Side View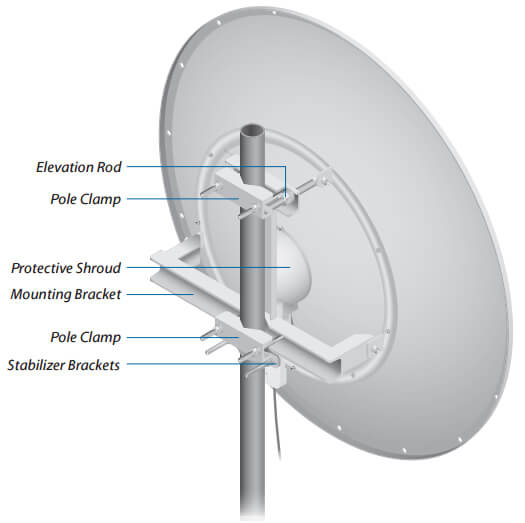 Fully Assembled Back View
Specifications:
airFiber AF-5G34-S45 Specification
Dimensions*
ø 1050 x 421 mm (ø 41.34 x 16.57")
Weight**
13.5 kg (29.76 lb)
Frequency Range
5.1 - 5.8 GHz
Gain
34 dBi
+ 45° Beamwidth
3° (3 dB)
- 45° Beamwidth
3° (3 dB)
F/B Ratio
42 dB
Max. VSWR
1.4:1
Wind Loading
1,779 N @ 200 km/h (400 lbf @ 125 mph)
Wind Survivability
200 km/h (125 mph)
Polarization
Dual-Linear
Cross-pol Isolation
35 dB Min.
ETSI Specification
EN 302 326 DN2
Mounting
Universal Pole Mount, airFiber X Radio Bracket, and Weatherproof RF Connectors Included
* Dimensions exclude pole mount and airFiber X radio (airFiber X radio sold separately)
** Weight includes pole mount and excludes airFiber X radio (airFiber X radio sold separately)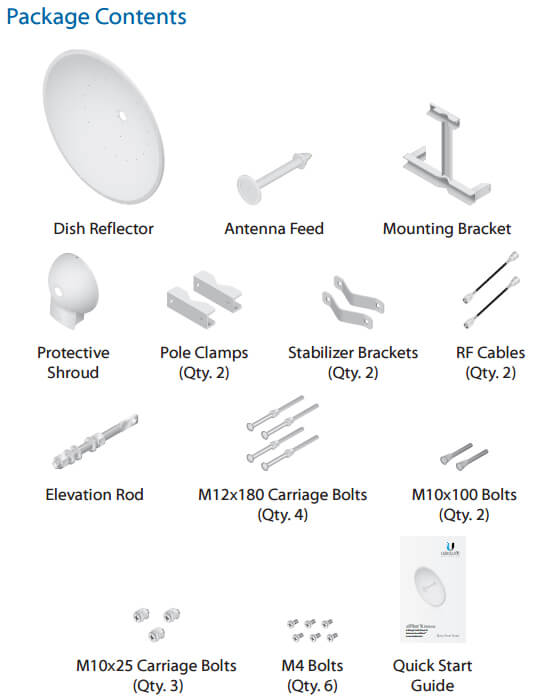 Antenna Information:
AF-5G34-S45
Azimuth, 5500 MHz

Azimuth Specs

Elevation, 5500 MHz

Elevation Specs

Software:

Loaded with Powerful Features
airOS F is an intuitive, versatile, highly developed Ubiquiti firmware technology that resides on airFiber. It is exceptionally intuitive and was designed to require no training to operate. Behind the user interface is a powerful firmware architecture which enables hi-performance network backhauls.
airOS F Tools
Speed Test
Antenna Alignment
Device Discovery
Site Survey
Ping
Traceroute
airOS F Integrated Technologies
airFiber's purpose-built hardware provides superior wireless performance, higher capacity, and lower latency. Unlike standard WiFi protocols, Ubiquiti airFiber's Hybrid Division Duplex (HDD) provides the best of both worlds — latency performance of Frequency Division Duplex (FDD) with the spectral efficiency of Time Division Duplex (TDD).
Wireless Modes
Wireless Network Configuration
Transmit Frequency
Receive Frequency
Output Power
Modulation Rate
Automatic Modulation Rate Adaptation
Duplex: Half or Full
High/Low RX Gain
Wireless Security: AES-128
Network Mode
Transparent Layer 2 Bridge
Network Configuration
In-Band Management
Management VLAN
Management
Automatic check for airOS F Updates
Configuration Test Mode
Firmware Recovery via TFTP
Reset to Factory Defaults
Configuration Management: Backup/Restore Device Configuration
Administrator/Read-Only Access
WEB/SSH/Telnet Access
Dynamic DNS
NTP Client
Ping Watchdog
SNMP v1 Support
System Log: Local/Remote
Full Statistical Performance Reporting
Tools
Speed Test
Antenna Alignment
Device Discovery
Ping
Traceroute
Pricing Notes:
Pricing and product availability subject to change without notice.
Ubiquiti Products
airFiber X Antenna
5GHZ AIRFIBER DISH 34DBI SLANT
#AF-5G34-S45
Our Price: $339.00