airMAX

Revolutionary MIMO TDMA Protocol System

Unlike standard WiFi protocol, airMAX Time Division Multiple Access (TDMA) protocol allows each client to send and receive data using pre-designated time slots managed by an intelligent AP controller. This "time slot" method eliminates hidden node collisions and maximizes airtime efficiency.
airMAX TDMA Protocol - airMAX M series Technology provides performance improvements in latency, throughput, & scalability compared to other outdoor systems in its class.
Powerful Software Features - Powered by Ubiquiti's powerful airOS loaded with features and optimizations for outdoor wireless performance, Ubiquiti's airMAX platform also features airView Spectrum Analysis and airControl central device management.
World Class Antenna Design - Ubiquiti's Antenna R&D team applied their years of experience in celular basestation antenna design in developing the revolutionary airMAX.
Frequency Freedom - Ubiquiti offers airMAX systems for the 900MHz, 2.4GHz, 3GHz, 5GHz, 6GHz and 10GHz bands.

Dish Reflector Design
5 GHz band Frequency
InnerFeed antenna technology
Customer Premises Equipment

RF Isolated Reflector
5 GHz band Frequency
InnerFeed antenna technology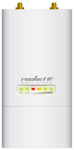 Hi-Power 2x2 MIMO radio
150+Mbps thoughtput
50+km Long Range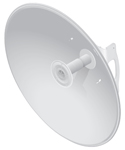 Carrier Class 2x2 PtP Bridge Dish Antenna
Light Weight Dish
30 dBi Antenna Gain

Carrier Class 2x2 PtP Bridge Dish Antenna
24-34 dBi Antenna Gain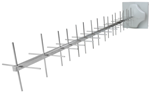 900 MHz 2x2 MIMO High-Gain Antenna
90+Mbps Real Throughput
20+ km Long Range
16 dBi Antenna Gain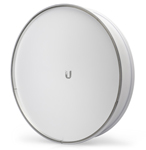 Isolator Radome for 620 mm Dish Reflector
Co-location deployments of Point-to-Point (PtP) links and backhauls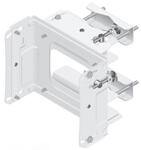 For 620 mm Dish Reflector
Features 15° of azimuth adjustment and 15° of elevation adjustment