Ubiquiti UniFi Security Gateway XG

Enterprise Gateway Router with Gigabit Ethernet

Sorry, this product is no longer available, please contact us for a replacement.
Overview:
Build your high‑performance network with the UniFi® Security Gateway XG. Combining robust security features and advanced routing technology, the Security Gateway XG delivers unprecedented network security and throughput in a cost-effective unit
High-Capacity Performance
Featuring 10G SFP+ interfaces, the Security Gateway XG supports up to 20,000 clients for enterprise-level businesses, stadiums, hotels, and large-scale deployments.
Powerful Firewall Performance
The UniFi Security Gateway XG offers advanced firewall policies to protect your network and its data.
UniFied Network Analytics and Visibility
From a single pane of glass, view network topology and configuration, real-time switch statistics, and debugging metrics.
LCD Touchscreen Display
The built-in touchscreen display on the USG-XG-8 provides administrators with real-time device and network monitoring without the need for a separate UI device.
Convenient VLAN Support
The UniFi Security Gateway XG can create virtual network segments for security and network traffic management.
VPN Server for Secure Communications
A site-to-site VPN secures and encrypts private data communications traveling over the internet.
Automatic QoS
Top QoS priority is assigned to voice and video traffic for clear calls and lag‑free, video streaming.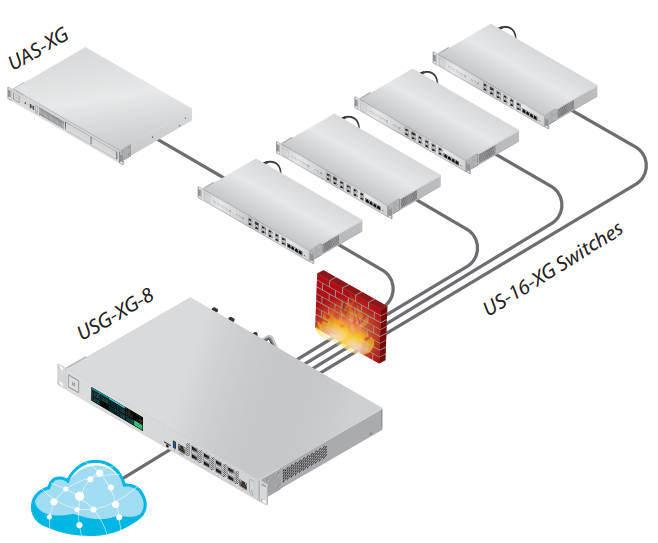 The USG-XG-8 connects to multiple US-16-XG devices.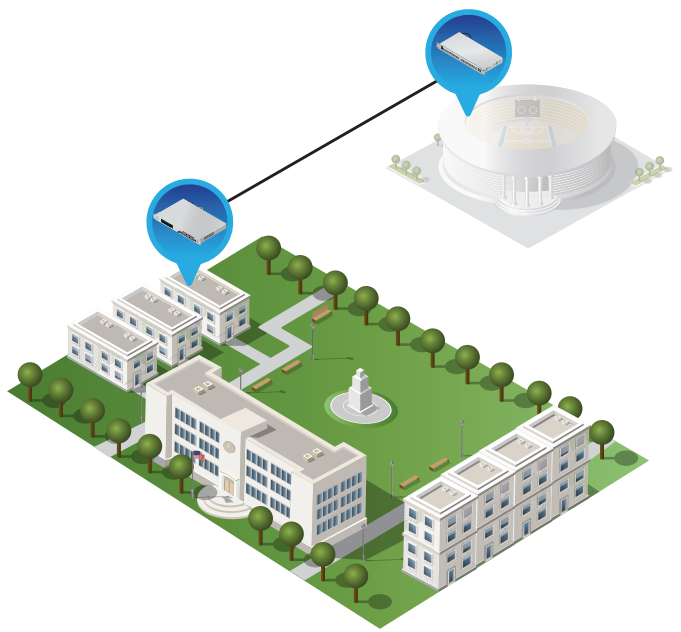 The USG-XG-8 in a campus data center feeds a stadium over a 10G fiber connection.
Features:
Easily accessible through any standard web browser and the UniFi mobile app (iOS or Android), the UniFi Controller software features an intuitive UI and support for the next generation of UniFi devices. Important network details are logically organized for a simplified, yet powerful, interface.
Packed with Features
Use the UniFi Controller to provision thousands of UniFi APs and UniFi Security Gateways, map out networks, quickly manage system traffic, and provision additional UniFi devices.
Network Overview
A comprehensive overview of your Network Health is readily available in the new dashboard. Monitor your network's vitals and make on‑the‑fly adjustments as needed.
Predictive Maps
Upload a map of your location(s) or use Google Maps to represent the areas where your UniFi devices are located. Starting with v5.6, you can also use the predictive map feature to get a preview of coverage, and to help you avoid dead spots.
Deep Packet Inspection
Ubiquiti's proprietary Deep Packet Inspection (DPI) engine includes the latest application identification signatures to track which applications (and IP addresses) are using the most bandwidth.
Detailed Analytics
Use the configurable reporting and analytics to monitor large user groups and expedite troubleshooting. Advanced search and sorting capabilities make network management more efficient.
Multi-Site Management
A single UniFi Controller running in the cloud can manage multiple sites: multiple, distributed deployments and multi‑tenancy for managed service providers. Each site is logically separated and has its own configuration, maps, statistics, guest portal, and administrator read/write and read-only accounts.
LAN/WLAN Groups
The UniFi Controller can manage flexible configurations of large deployments. Create multiple LAN and WLAN groups and assign them to the respective UniFi devices.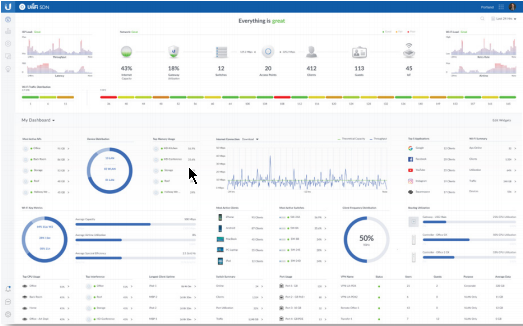 Dashboard
UniFi provides a visual representation of your network's status and delivers summary information about various device categories, network traffic, and client activity.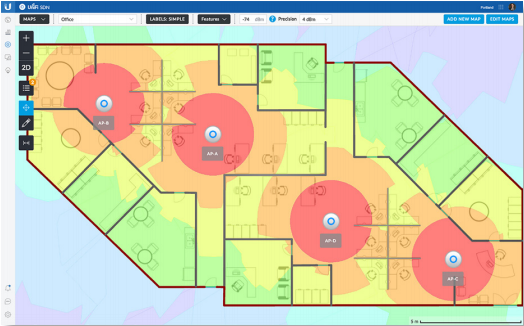 Maps
Monitor UniFi devices and analyze the surrounding RF environment.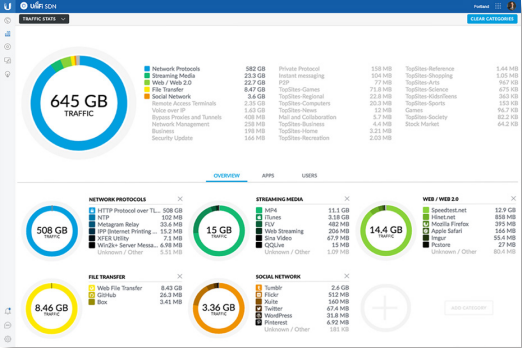 Traffic Statistics
UniFi visualizes network traffic in clear and easy-to-read graphs.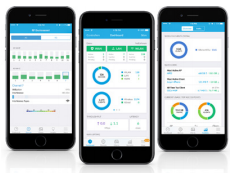 UniFi Mobile App
Manage your UniFi devices from your smartphone or tablet.
Hardware Overview:
(8) 10G SFP+ Ethernet Ports
(1) Gigabit RJ45 Ethernet Port
(2) Hot-Swappable Modular PSU Bays
(1) 100W AC/DC Modular PSU
Built-In Touchscreen Display
1U Rack-Mountable
Real-Time Intrusion Protection at over 1 Gbps Throughput
50 Gbps Routing Capability with Deep Packet Inspection

Built-In Touchscreen
The USG-XG-8 features a vivid built-in touchscreen display, to make managing your network even easier. The LCD touchscreen conveniently displays two different screens: the port display and the statistics display.
The default port display shows information such as IP addresses, throughput speeds, and number of clients, per port. The statistics display presents an overview of total throughput speeds and system details.
Power Versatility
Hot-swappable modular PSUs provide options for backup, redundancy, and DC power capability. The UniFi Security Gateway XG includes one AC/DC 100W power supply.
If the USG-XG-8 detects failure of the primary PSU, then the backup automatically activates to supply uninterrupted power.
The AC/DC module is sold separately as model RPS‑AC‑100W. You also have the option to use a DC/DC PowerModule™, model RPS‑DC‑100W (sold separately).
UniFi Security Gateway XG8 Specifications
Dimensions
442.4 x 285.6 x 43.7 mm (17.42 x 11.24 x 1.72")
Weight
With Mount Brackets
Without Mount Brackets

4.44 kg (9.79 lb)
4.54 kg (10.01 lb)
Max. Power Consumption
AC/DC 100W
Power Method
100-240 VAC, 50-60 Hz Universal Input
Power Supply
(2) Hot-Swappable AC/DC or DC/DC 100W PSU
(1 AC/DC PSU Included)
Supported Voltage Range
100 to 240 VAC
LCD
4.7" Wide-Viewing Angle True Color
TFT-LCD Touch Screen
System LED
Status
On-Board Flash Storage
8 MB NOR Flash
4 GB eMMC NAND Flash
Interfaces
Networking

Management

(8) 10 Gbps SFP+ Ports
(1) 1 Gbps RJ45 Ethernet Port
(1) RJ45 Ethernet In-Band
(1) RJ45 Serial Out-of-Band
IPS Throughput
1 Gbps
Processor
MIPS64 16-Core, 1.8 GHz
System Memory
16 GB DDR4 RAM
Rack-Mount
Yes, 1U
ESD/EMP Protection
Air/Contact: ±24 KV
Operating Temperature
5 to 40° C
(23 to 104° F)
Operating Humidity
5 to 95% Noncondensing
Certifications
CE, FCC, IC