Ubiquiti Amplifi Instant

Complete Home Wi-Fi System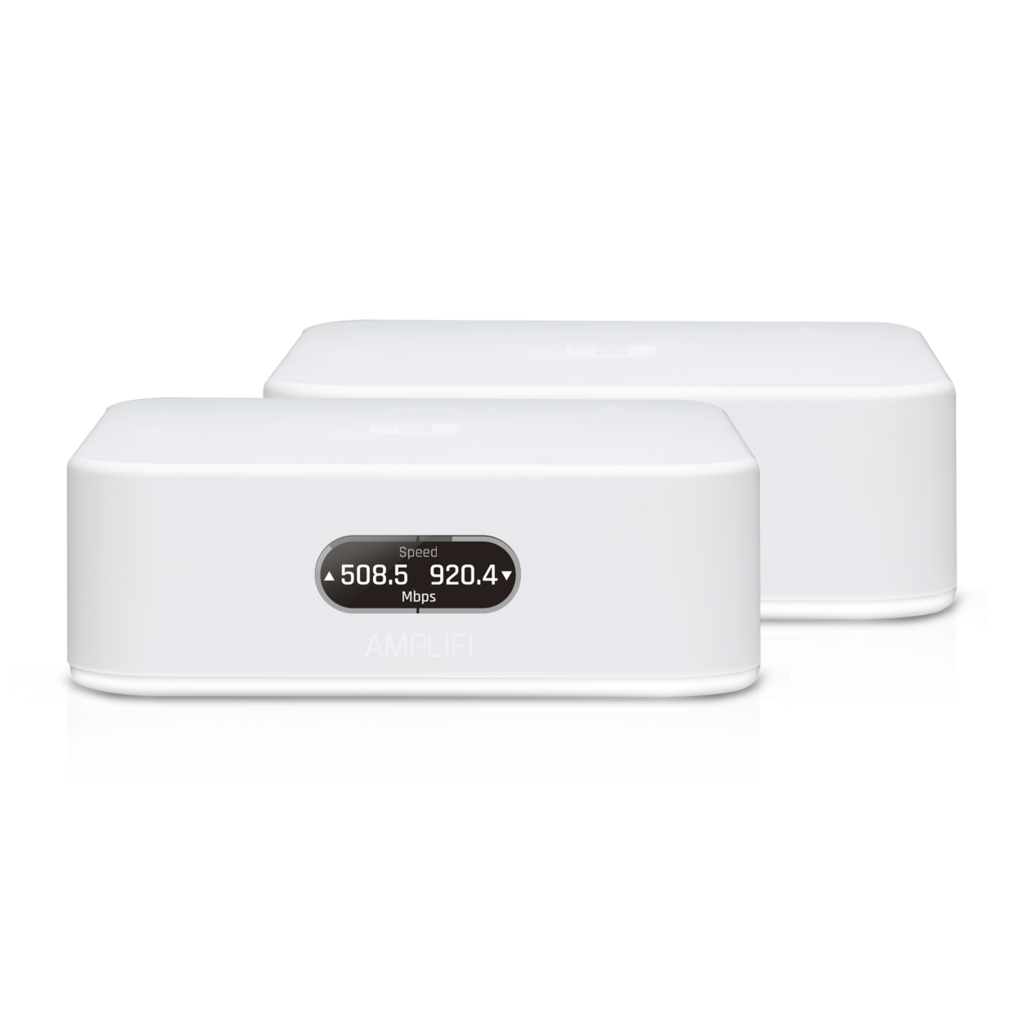 Sorry, this product is no longer available, please contact us for a replacement.
Overview:
AmpliFi Routers and MeshPoints are designed to work in combination to eliminate any dead spots in your home. They utilize mesh technology to provide powerful wireless performance in an innovative and simple design.
With turbocharged 802.11ac Wi-Fi, AmpliFi utilizes multiple self-configuring radios and advanced Wi-Fi antenna technology to bring ubiquitous secure Wi-Fi coverage to any home network. Ensure that your smart TV, wireless security cameras, digital downloads, and streaming devices have the connectivity demanded in today's modern home.
Instant Setup
The intuitive, easy-to-use AmpliFi app allows you to set up your system in mere minutes. It also features configuration options, powerful reporting metrics, parental controls, remote access, and easy guest access. The mobile app is available for download on Android™ and iOS smartphones.
INSTANT WI-FI SYSTEM
The AmpliFi Instant Wi-Fi System includes a router with an easy-to-use touchscreen display, 1 Gigabit Ethernet port, a WAN port, an Ethernet cable, and one MeshPoint with an Ethernet port to maximize coverage and eliminate dead zones in your home. The AmpliFi Instant Wi-Fi system provides superior coverage with a range of up to 4,000 sq. ft and quick setup for whole home coverage with seamless Wi-Fi.
INSTANT ROUTER
The AmpliFi Instant Router features an easy-to-use touchscreen display, one Gigabit Ethernet port, a WAN port, and an Ethernet cable. The AmpliFi Router provides excellent coverage for standard-sized homes of approximately 2,000 sq ft. Expand as needed by adding MeshPoints to your mesh Wi-Fi system.
Specifications:
Router Specifications
Dimensions
99.5 x 97.8 x 33.05 mm (3.92 x 3.85 x 1.30")
Weight
215 g (7.58 oz)
Max. TX Power
22 dBm
MIMO
2.4 GHz: 2x2, 5 GHz: 2x2
Speeds
2.4 GHz: 300 Mbps, 5 GHz: 867 Mbps
Networking Interface
Wi-Fi/Gigabit Ethernet (1) WAN, (1) LAN
Max. Power Consumption
9W
ESD/EMP Protection
± 24kV Air/Contact
Buttons
Reset
Antennas
(1) Dual-Band Antenna, Single-Polarity
Display
30.73 mm (1.21") Diagonal, 160 x 64, 142 ppi, Capacitive Touch, Grayscale
Wi-Fi Standards
802.11ac
Power Save
Supported
Wireless Security
WPA2-PSK AES/TKIP
Operating Temperature
14 to 131° F (-10 to 55° C)
Operating Humidity
5 to 95% Noncondensing
Certifications
FCC / CE / IC
MeshPoint Specifications
Dimensions
99.5 x 97.8 x 33.05 mm (3.92 x 3.85 x 1.30")
Weight
215 g (7.58 oz)
Max. TX Power
22 dBm
MIMO
2.4 GHz: 2x2, 5 GHz: 2x2
Speeds
2.4 GHz: 300 Mbps, 5 GHz: 867 Mbps
Networking Interface
Wi-Fi/Gigabit Ethernet (1) LAN
ESD/EMP Protection
± 24kV Air/Contact
Buttons
Reset
Antennas
(1) Dual-Band Antenna, Single-Polarity
Wi-Fi Standards
802.11ac
Power Save
Supported
Wireless Security
WPA2-PSK AES/TKIP
Operating Temperature
14 to 131° F (-10 to 55° C)
Operating Humidity
5 to 95% Noncondensing
Certifications
FCC / CE / IC
Supported Data Rates
802.11ac
13 Mbps to 1300 Mbps (MCS0 - MCS9, VHT 20/40/80)
802.11n
6.5 Mbps to 450 Mbps (MCS0 - MCS23, HT 20/40)
802.11a
6, 9, 12, 18, 24, 36, 48, 54 Mbps
802.11b
1, 2, 5.5, 11 Mbps
802.11g
6, 9, 12, 18, 24, 36, 48, 54 Mbps